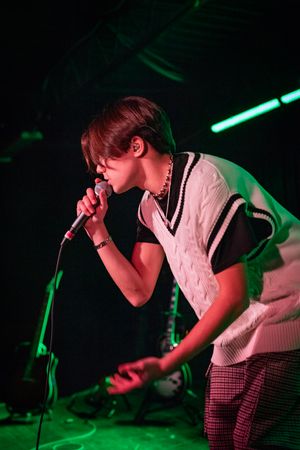 Bio
KID PREXY BIO
Kid Prexy has the energy and idealism of any 15 year old. However, looking deeper, he holds a secret of talented songwriting with technical & musical elements far beyond his young years. Multi-instrumental, this talented musician has been playing guitar since he was 8 years old, & also plays drums, ukulele, bass, and sings. He conceptualizes each song from beginning to end. He's a testament to the next generation of music makers and how they're living their talent out loud.
Inspired by artists like, JuiceWRLD, Xxxtentacion, Post Malone, The Kid LAROI, Powfu, and Machine Gun Kelly, Kid Prexy is creating music and lyrics to tell stories that explain the complex emotions of being a teenager and living life from his perspective while inspiring others.
Born in Baltimore, Maryland in 2007 and raised near Oklahoma City. A national honor student and black belt martial artist in taekwondo who currently trains in jujitsu, plays football and basketball, Kid Prexy takes life experiences and flows them into his music.
He recorded his first EP, Broken Promises, in the Summer of 2021 at 13 years old, which features Lost in Space, Planets, I Don't Care, and Future, as well as the bonus track Stay Away. In early 2022 he wrote and recorded five songs for his second EP: Lights in the Forest, which has an acoustic lo-fi chill vibe: Raindrops, Pink Blossom Tree, The Note I Wrote, 7AM, and Don't Wait. He's now back in the studio recording his third EP, with songs in the alt rock pop punk genre that he loves.
Fun Facts:
- Studied at the School of Rock in Edmond, Oklahoma

- Hit his first 1 Million Streams on Spotify in September 2022 at 14 years old
- Recorded his song Raindrops with Cody Hanson, the founder and drummer for the platinum selling rock band Hinder.
- Shot his first music video for Stay Away with popular hip hop music video director, Keaton Jones, of Dorm Room Entertainment. Stay Away is his most streamed song to date with over 600,000 streams on Spotify
- Currently Recording new songs for his alt rock pop punk EP in Los Angeles with Kevin Thrasher who works with amazing artists such as Machine Gun Kelly, Jxdn, Travis Barker, Trippie Redd, Iann Dior and Blink182