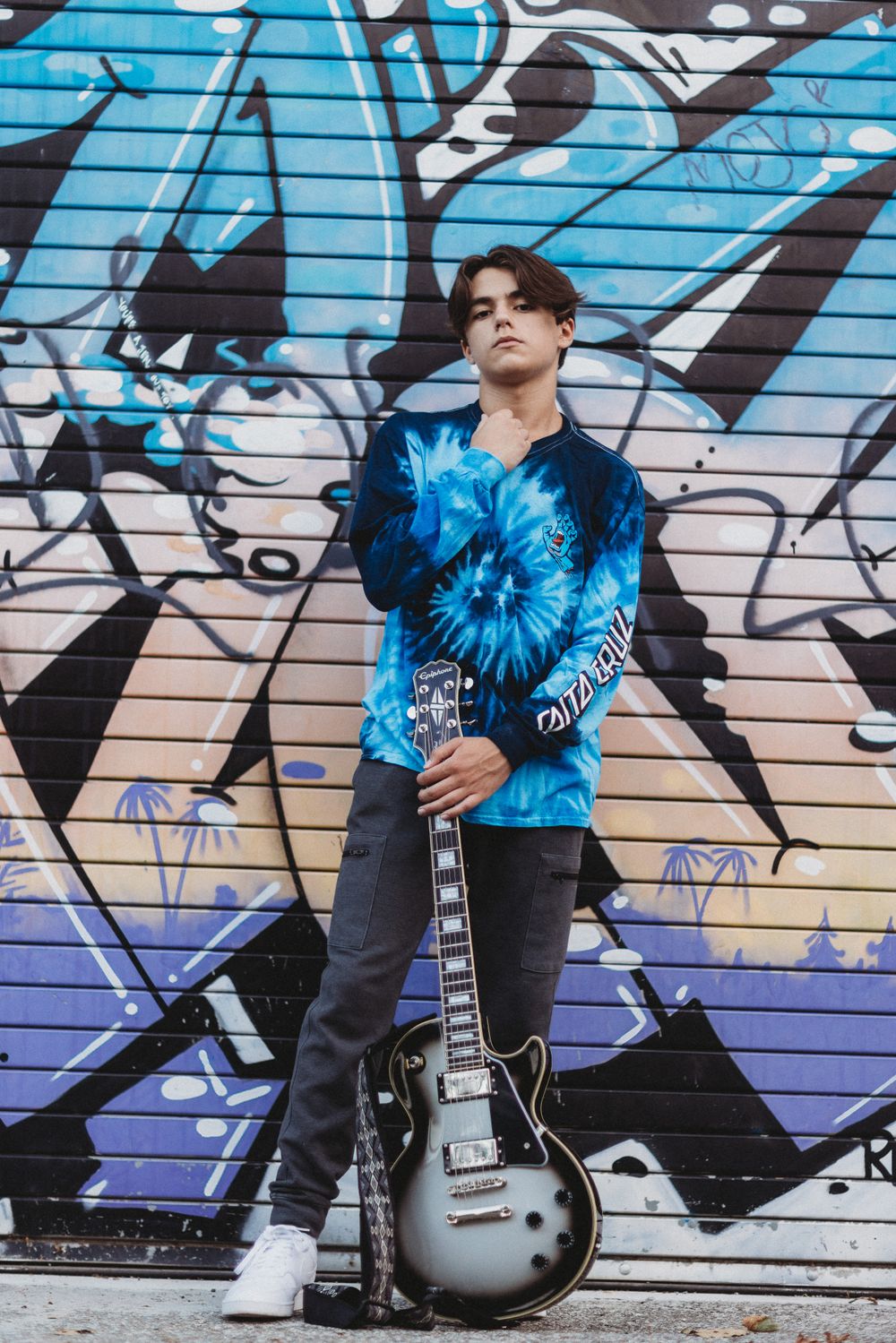 KID PREXY BIO
At first glance, Kid Prexy has the energy and idealism of any fourteen-year-old, black-belt honor student. However, looking deeper, his fingers and brain hold a secret of immensely talented songwriting with technical and musical elements far beyond his young years.
Described by UFC fighter Julia Avila as "creative, complex, and honest," Kid Prexy's songs are "representative of who he is as a martial artist; intricate and driven."
Multi-instrumental, this talented and dedicated musician has been playing guitar since he was eight years old, and also plays drums, ukulele, bass, sings and raps. He conceptualizes and produces each song from beginning to end. Inspired to encourage other artists to explore their mediums in a deeper, more thoughtful way, Kid Prexy is a testament to the next generation of music makers and how they are living their talent out loud.
Inspired by artists like, Juice WRLD, Xxxtentacion, Post Malone, The Kid Laroi, Powfu and Machine Gun Kelly, Kid Prexy is creating music and lyrics to better tell stories that explain the complex emotions of being a teenager and living life from his perspective while inspiring others.
What Fans Are Saying:
"His music is very representative of who he is as a martial artist; intricate and driven." – Julia Avila, UFC Fighter
"As a songwriter, I find his ability at his age to be astounding. His work, as good as it is now it can only get better as he progresses as the amazing artist I know he will be." - Shafer Bennett Wilkerson, Musician/Vocal Teacher
"He has always been very respectful and a pleasure to work with. Great sense of humor and a willingness to learn. Coachable. Sky's the limit for this young man, he can be whatever he puts his mind to. Look forward to seeing his journey."  - William Lee, Jujitsu Coach
Fast Facts:

- Born in Baltimore, Maryland in 2007 and raised in Oklahoma, Kid Prexy is inspiring the next generation of musicians through his online channels, TikTok, Instagram, Facebook, Twitter and YouTube.
- A national honor student and black belt martial artist in taekwondo who currently trains in jujitsu, plays football and basketball, Kid Prexy takes each experience and flows it into his music.
- Studied at the School of Rock in Edmond, Oklahoma

- Recorded his first EP, Broken Promises, in the Summer of 2021 at 13 years old, which features four original songs, Lost in Space, Planets, I Don't Care and Future, as well as a bonus track called Stay Away.
- He's back in the studio recording his next 6 song EP: Lights in the Forest and recently released Raindrops, which is the first single from this new record. He recorded that track with Cody Hanson, the founder and drummer for the platinum selling rock band Hinder.
- Shot his first music video for Stay Away with popular hip hop music video director, Keaton Jones, of Dorm Room Entertainment. Stay Away is his most streamed song to date breaking over 150,000 streams on Spotify
- Kid Prexy can be reached at kidprexy@gmail.com